Upcoming Events and Courses
Please scroll down to read about upcoming events and courses which may be of interest to parents and families. We do not specifically endorse any of the non-Meadow events, we are just passing on information which may be useful and/or of interest to Meadow families. Some of the events and courses are at Meadow High School, but some are run by external providers, so please ensure you read the information carefully.
---
Dyspraxia Coffee Morning
is at
Christchurch, Redford way, Uxbridge , UB8 1SZ.
10am -12pm
Thursday 19th May
---
HILLINGDON PARENT CARER FORUM
INFORMATION AND ENGAGEMENT EVENT
Dear parents/carers,
Hillingdon PCF in co-production with the SEND teams at Hillingdon, invite parents/carers of SEND children and young people to an information and engagement event for Hillingdon residents only, details as follows:
Friday 27th May 2022
Middlesex Suite, Civic Centre, Uxbridge
10am for a 10.30am start, ends at 1pm
Free refreshments on arrival and a free light lunch will be served too.
Come along and meet members of the Educational Psychology Service, SEND Advisory Service, and SEND Team at Hillingdon, who will be presenting to you. This is an information sharing and training event and there will be opportunities to review and give feedback on the SEND Strategy, and hear about the SEND and Inclusion consultation.
Unfortunately we cannot offer any childcare facilities, so we are unable to accommodate any children at this event. The caterers have asked for attendee confirmation numbers by Monday 9th May, so you must please register your attendance before that date, using the Eventbrite link, one free ticket will be issued per email address.
27th May 2022 Registration link
We look forward to welcoming you on the day.
Best wishes,
Hillingdon PCF
On behalf of the Steering Committee
---
---
---
---
---
FREE TO HILLINGDON PARENT CARER FORUM MEMBERS:

Webinars on
EHCP NEEDS ASSESSMENT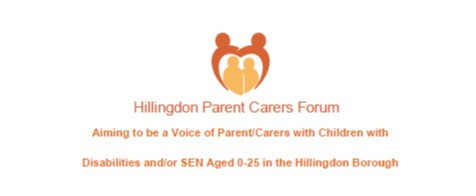 Dear parents/carers,
Hillingdon PCF is once again delighted to offer forum members that are resident in Hillingdon borough, an invitation to join the next free series of 3 webinars around the EHCP. Taking account the feedback received from those that were unable to make last year's evening sessions, we are able to offer daytime webinars as follows:
All 3 webinars are noon to 2pm
Thurs 10th March: The EHCP Needs Assessment
Thurs 17th March: The EHCP
Thurs 24th March: The EHCP Annual Review

These are webinars for parents/carers, whether you are applying for an EHCP or whether you already have one, for your child/young person. The first webinar (EHCP Needs Assessment), will explore the assessment process, time limits, who should contribute, and criteria for an assessment and issuing of an EHCP. There will be an opportunity to ask questions at the end of the webinar.

Tanya Williams is our guest presenter, and is a parent of 2 young people with SEN, who understands the importance of parent empowerment and this is why she began running workshops, advice clinics and webinars for support groups and other PCFs. After over 20 years working as a litigator, Tanya set up her own business advising families across the UK. Here is Tanya's website: Home | Tanya Williams SEN Advice
Some feedback from previous audiences:
" Real in depth understanding of annual reviews. It helped me to understand how to prepare for my next annual review.. Thought I knew the overall process- but now more confident"
" Clarity of information. Real world experience of what works, actual clauses useful to cite and the range and format of evidence that can be brought to an Annual Review"
"Tanya's talks are always full of very practical, detailed information on what parents can do to get the best support they can for their child. She has so much experience of helping parents with EHCPs, Annual Reviews, Tribunals etc and her real life examples really help to make everything clear. Highly recommended." ( Chair of large support group)
"The best Annual Review my son ever had. Tanya was knowledgeable, patient and professional in her service. Very invaluable support offered"
To register for 10th March, please put your details into the Eventbrite link here: Register for EHCP Needs Assessment webinar You will receive email confirmation that you have a ticket.
Registration links for the other two webinars will be sent out closer to their dates
We will be using GoToMeeting, which is a virtual meeting platform. If you are new to GoToMeeting, download the app now and be ready for when the session starts GoToMeeting app
Prior to the webinar, those that have registered will receive an email with the meeting link that allows you to attend online. We look forward to you joining us.
Best wishes,
Hillingdon PCF
On behalf of the Steering Committee
---
---
To book please click here: https://forms.office.com/Pages/ResponsePage.aspx?id=ebasqoHD-0izIPnVge6Uj91ZLva9uAVPpWhXoLXQwTRUNURUSFc1VjhKNlNROVg0NkdCNEczUktKQS4u
---
To book this course please click here
https://forms.office.com/Pages/ResponsePage.aspx?id=ebasqoHD-0izIPnVge6Uj91ZLva9uAVPpWhXoLXQwTRUM1JEN04xTjBFWkZaNlBRWlk0RkhLQldHTy4u
---
To register your interest please click here
https://forms.office.com/Pages/ResponsePage.aspx?id=ebasqoHD-0izIPnVge6UjyiELmzaFEhIvqWHe6Nxyd5UMFpZMEE4UjVKNlBCMU5ZU0tJRUMxT1oyTy4u
---
---
The local Dyspraxia Foundation Group hold coffee mornings at Meadow - upcoming dates are as follows:
NEW DATES FOR 2021/22
10am - 12.00 (approximately)
Meetings will be in the School Library (* or the House)

16 September 2021
18 November 2021*
20 January 2022*
17 March 2022* -
LOCATION MOVED TO CHRIST CHURCH HALL, REDFORD WAY, UXBRIDGE
19 May 2022
16 June 2022
Meetings organiser, Emma, says:
At the dyspraxia coffee mornings we talk in confidence with in the 4 walls. What's said stays within those walls unless you are happy for me to share or talk over any problems with either the Civic Centre , SENDIASS, etc .

It's a small group that offer advice and a listening ear where possible. Somewhere to let of steam without being judged. It sometimes opens up friendships, builds confidence for adults alike. The group is open to everyone that has, or knows some one that has, dyspraxia - adults or children.

You don't have to have an official diagnosis either. You can come along if you just want to find out more about Dyspraxia, or maybe someone you know is waiting for a formal diagnosis.

We also offer fact sheets , information on dyspraxia and information on social activities for families ie turtles swimming club , DASH youth centre on a Sunday .

You can get me on either emmahewlett@tiscali.co.uk or emiliehewlett@gmail.com.
For more information about Dyspraxia, visit the website: http://dyspraxiafoundation.org.uk
---