Cyber Security Statement
Meadow High School
Cyber Security Statement
Meadow High School uses LGFL as their broadband provider.
LGFL (London Grid for Learning Trust) is a charity whose mission is the advancement of Education.
LGfL has 12 layers of protection for cyber security.
Being part of the LGFL WAN protection begins before the internet reaches the school.
Pre-cleaned internet feed with added DDoS protection from Janet (https://www.jisc.ac.uk/janet)

Security operations centre for ongoing monitoring and instant alerts

Industry grade core firewalls protect the WAN

Local LGFL provided firewall in the school

Sophos antivirus and ransomware protection for: a. Workstations b. Servers c. personal use

Malwarebytes scanning and remediation tool

Meraki mobile device management

Email protection: a. Egress encrypted messaging b. Mailprotect spam filter (MHS use own email domain)

Web filtering a. Webscreen - for use in schools b. Homeprotect - school-equivalent safe filter for home use

CPD: a. Sophos phish threat b. NCSC cybersecurity training

Research and awareness: a. NCSC security audit b. Newsletters and twitter

Policies and governance for schools, including the 'elevate' cybersecurity toolkit.
MHS security school report May 2023: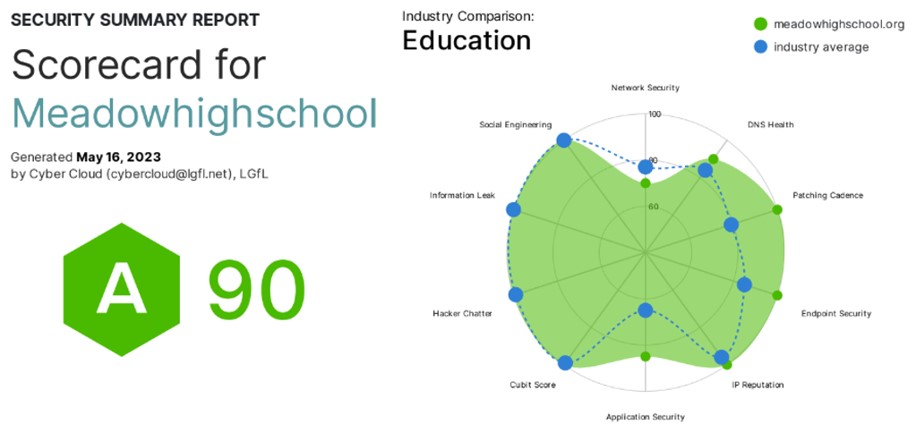 Resilience/Business Continuity:
MHS have twice daily onsite backups using a RAID array on the file server (shadow copy/previous versions etc) and a separately located NAS device with encrypted cloud backup copies.
Offsite are industry standard N-able (was solarwinds) encrypted cloud backups via our IT support partner.
All are tested by monitoring of backup logs and any error logs are immediately rectified.