World Book Day:  Celebrating Literacy Week       Monday 26th February – Friday 2nd March 2018   'Teamwork Challenge'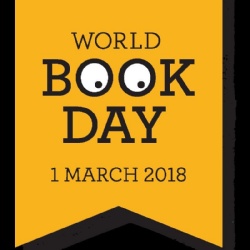 This year the English and P.E. Faculties worked together to promote the theme of 'Teamwork'. We were thinking about famous teams and duos and why they were successful.
We were busy all week with a range of activities designed to build communication and teamwork skills. This work included a class research project, tutor time orienteering, an inter-house dodgeball tournament, lunchtime challenges in our library and Friday's ultimate teamwork challenge and
non-uniform day.
The students worked really hard together to produce the most amazing research projects on a wide range of topics including people who help us like doctors and nurses, the amazing GB Winter Olympic team and the England Women's Hockey team. They also researched teams and duos that make us laugh and groan such as favourite football teams and the incredible Ant and Dec. Some classes thought about favourite stories and completed research on Doctor Who and his assistants, superheroes, Winnie the Pooh, Hero Turtles, Trolls, Timon and Pumbaa and the Toy Story team of toys to name but a few! A huge thank you to them all, our school looked amazing when we brought them all together towards the end of the week.
Only the bravest few ventured out to take part in our class orienteering challenge as the weather was unbelievably cold that week. Even the planned inter-house football match had to change to dodgeball to avoid frost bite! The dodgeball tournament was really great fun. It was obviously not a safe environment for spectators, only a very few intrepid reporters from Year 11 were given protective clothing and 'volunteered' to take photos and videos to record the action. The rest of the school got to watch from the safety of their classrooms via webcam. Green House were the eventual winners but it was a very closely fought contest! Yellow House won a special mention for being the best team players in the competition. All the players enjoyed a chance to chat about the match to our reporters, socialise with the other houses and enjoy the delicious buffet food prepared by the very talented Year 11 students, under the watchful eye of Mrs. Shukula and her team. A huge thank to them, all the students had a really great time and you can image there was very little food left over for the staff waiting and hoping!
t was lovely to see so many students coming to the library at lunchtimes to take part in the team challenges run by Mr. Vincent and the P.E. Faculty. Students had to work hard and build their communication skills as all the activities involved helping each other achieve. The English Faculty had the job of refreshments and taking photographs, if you want to see how good we are with a camera please visit our website page and have a look!
Due to snow we had to postpone the final day of celebrations however this didn't put us off and we had a fantastic day last Friday completing the final challenges and enjoying wearing clothes that fitted with our theme. All week we collected merits/raffle tickets for house groups for working hard to develop reading skills and for good teamwork. The students worked so hard we are still adding them all up. The results will be announced in the final assembly of the term and bonus merits awarded which might make a big difference to the result for the Spring Term House Team Award!
A huge thank you to everyone at school and at home for supporting this initiative. We hope that students will continue to think about how successful we can be when we work as a team. 'The strength of a team is each individual member.


The strength of each member is the team.' [Phil Jackson]
Mrs A Sugden - Faculty Head of English
We will be updating the English Faculty page with more information about the week and photos, in the near future.