Musical Fundraiser raises over £600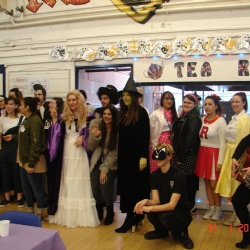 Last Wednesday, Miss Kalia and the Production Team organised a Musical Fundraiser at Meadow to raise money towards this year's Summer Show "West End High". The Script Writers' Club have written an original story using some famous songs and scenes from different musical shows and have begun to rehearse this year's production.
The Sixth Formers took on more responsibility this year, as many of them served and helped on the evening, showing great independence, and professionalism on the night.
With the success from last year's fundraiser, students requested another evening of fun for their families to come along to. Parents enjoyed being involved and described it as "a lovely way to meet other parents and chance to socialise".

At the party there was food made by the Food Tech Department. Delicious mini burgers, fries, nachos, cupcakes and nibbles were all themed to match the musical evening and served to tables by all the staff dressed as Musical theatre characters.
Mr Ho performed on his keyboard and invited guests to sing along for karaoke and entertainment from the staff school band got everyone up to dance.

There were many games and interactive fun for the students to take part in with some great prizes and they got to act silly at the photo booth with props! An Art Auction, a Raffle and an ice cream and popcorn stall too, all added to the fun.
It was lovely to see so many parents, governors and students enjoy the event as it has become so hugely popular over the years to unravel the theme in the Summer show.
The evening was a huge success and students and staff have decided they wanted to raise money towards a new camera for the hall to live stream performances to classrooms, as well as props and costumes. We raised over £600 !
Thank you to all the families, staff, pupils and Governors who supported this event.
Please find below a few feedback quotes and photos from the evening. More photos will be on Our School / Gallery.
I liked the food very much and painting people's faces
Curtis (Sixth Form).
Really good - lots of fun things to do - lots of fun
Zech (Year 10).
Great food, games and entertainment once again. Hope you raise a huge amount of funds ! The burger was delicious. Many thanks. PS - Grandad loved the guacamole !
M de Souza - Parent
Perfect ! I liked sharing the cakes. I liked the costumes. Dad liked the singing !
Gemma (Year 8)
Brilliant evening, lots of fund and entertainment for all. Food themed was fantastic - a lot of thought went into this. Highly recommended !
T Keeble - Parent
Fantastic evening - thought of everything. Loved it ! Looking forward to the next one.
Parent
Amazing time, we had a lot of fun
Ahamed (Year 9)
Enjoyable evening. Lot of effort put into planning and execution. Love the band ! As good as ever.
No name given
Very well organised. Presentation of food, and the food itself was fantastic. Very impressed with the aray of activities available for all ages. Will definitely attend the next one !
M.D. Kalia
Excellent work ! The dress, the teachers, the food, the music - it was all wonderful. Really enjoyed myself. Thank you for all your hard work Loved every bit of it.
Mrs Saeipour - Parent
Brilliant fundraiser. Appreciate all the effort the staff have put in.
H. Mirza - Parent Governor
I liked dancing at the fundraiser. I came with my Dad.
OJ (Year 10)
It was WICKED. As always great food, great costumes, great entertainment. Thank you everyone.
Mr & Mrs Norris - parents
Lovely atmosphere. Fun and relaxed. Good range of themed activities for children and great food. Thanks.
Mrs Duncan - Clerk to the Governors