Poster Competition for "Musicals Fundraiser"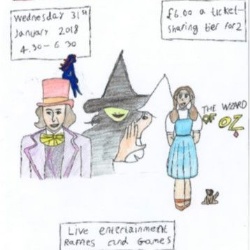 We held a competition to design a poster advertising the forthcoming "Musicals Fundraiser" event on 31 January 2018.
There were over forty entries, with many colourful and exciting designs. It was very hard to choose a winner ...........but...........the winning entry is: Aaron-Ray (Sixth Form). Congratulations Aaron-Ray! The winning design is below.
Here are some of the runners up:
Well done everyone who entered the competition ! Thank you for all the amazing entries.