'Musical Fundraiser' 31 January 2018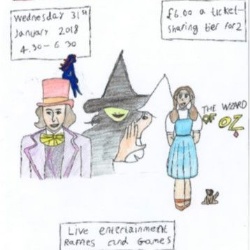 As part of this year's summer show, Production Club is hosting a 'Musical Fundraiser' at Meadow High School on Wednesday 31st January @ 4.30pm - 6.30pm.
There will be refreshments and games to help raise money for equipment in the show, such as a new camera to live stream performances for students to watch from their classrooms.
Tickets cost £6.00 each and you will receive your own assortment of Musical themed treats such as:
Cheesy Nachos (with salsa, guacamole and sour cream sauce)
Mini beef or vegi burgers
Pretzels (sour cream and chive flavor)
Wicked cupcakes
French fries
Musical cookies (shortbread)
Squash
Teas and coffees will be available to purchase at 50p a cup and also additional treats, such as ice cream and popcorn at £1.00.
There will be live entertainment from the school band and some raffle prices (£1.00 a ticket) to be won.
Please ensure that your child is accompanied by an adult if attending the party.
Please return the reply slip (on the letter dated 23 January 2018 - see Parents/Letters home) to Miss Kalia, enclosing money and you will receive your ticket; as they are sold on a first come first serve basis with limited places.
M Kalia
Dance and Drama Lead
As part of the preparations for the fundraiser, we ran a competition to design a poster advertising the event. The Winner of the post competition is Aaron-Ray in Sixth Form, and you can see his winning design below.