Celebration of Achievement Evening - November 2016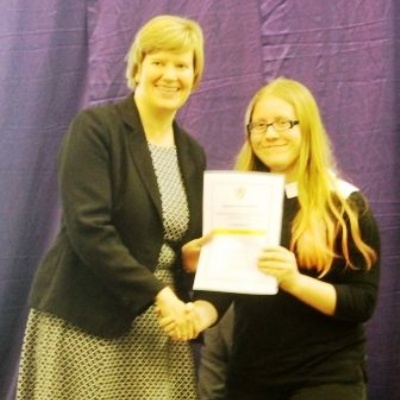 On Thursday 24 November 2016, we held our annual Celebration of Achievement Evening, where pupils past and present receive their exam certificates and awards. Pupils, parents, staff, governors and special guests all come together to acknowledge our wonderful pupils and their achievements.
We were joined by the Deputy Mayor of Hillingdon, Councillor Carol Melvin and her Consort Mr Andrew Melvin, Governors and many other guests.
Our Guest Speakers for the evening were Ms Hawkins, HR Director of the Heathrow Marriott Hotel and Ms Conlon-Benz, HR Manager of the Heathrow Marriott Hotel. Linda and Fiona presented our pupils with their certificates and spoke on the subject of "Achievement". They also spoke about Project Search, which they are involved with. Ten ex Meadow pupils are currently doing a year's internship at the Heathrow Marriott.
Travel Trainers from Ealing Mencap presented Travel Training Certificates for pupils who had done really well with learning to travel independently.
Mr Gary Wright, our recently appointed Chair of Governors, gave a speech. He presented Mrs Janet Ryerson with a special thank you award. Mrs Ryerson has been a Governor at Meadow for thirty years. He asked the room to join him in thanking Janet for her support and commitment to Meadow over so many years. He also presented Mrs Ryerson with a plaque. A representative of the School Council, Harry, then gave a thank you speech to Mrs Ryerson on behalf of the pupils and presented her with some things the pupils had made.
The Head Boy. Robert and the Head Girl, Bianca, then gave a Vote of Thanks to all the guests, and particularly our special guests.
The evening ended with a fabulous dance performance of "Singing In The Rain" by our Sixth Form Dancers", including several pupils who achieved their Level 1 in Dance Leadership.
Finally, we all had a nice cup of coffee and some cake and a good chat. It was lovely to see past pupils and to find out what they have been doing since leaving Meadow.
A raffle was held in aid of the Sixth Form Charity, and raised a whopping £142.00 for Cancer Research UK.
Thank you to everyone for your support in making this evening such a special occasion.
See more photos of the evening on Our School/Gallery page