Opening of New Sensory Garden - October 2016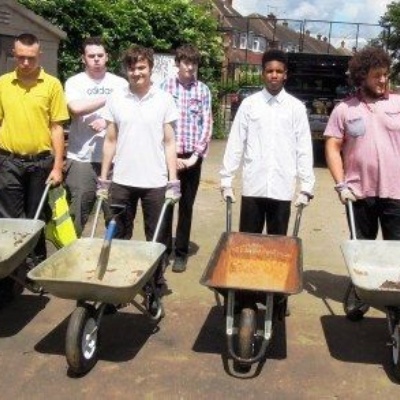 Back in June of last year, I took over the role of delivering horticulture lessons within the school. Both the students and the Horticulture Team decided to create a sensory garden in some waste land at the back of the school as our project.
Firstly, our team of work experience students - for two weeks running - prepared the area by digging and turning the soil over to make it easier for us to design our final creation.
The students were very excited about this new adventure and played a key role in achieving our design.
The work was hard and at times we worked when the weather was against us, but the students didn't let it stop them.
We needed funding for the materials to achieve our goal, so we decided to send out letters to garden centres and other educational settings asking for help.
A massive thank you must go to a number of people and organsations:
Innov8 who came along and donated and installed our lovely pond with a stream running alongside it, creating a lovely sensory feeling while sitting on the swing.
Some of the staff members from Meadow kindly gave up their time to walk Hadrian's Wall raising a whooping £2000 !
Mr Cryan the husband of Mrs Cryan, who is part of the Horticulture Team, was the first to come and lay the foundation of our design by laying a pathway.
Mike and his Construction Team from Abbotsfield School kindly gave up their day to help us.
Lords the builders who donated the gravel and wood needed and Groundel garden services who donated the turf.
We would also like to thank the team from Glaxo Smith Cline who gave up the day to support us and work so hard.
Visit Our School/Gallery to see all the photos of our Sensory Garden build.
Thank you to everyone for your time and generosity.
Miss Lennon and the Horticulture Team
The garden was officially opened on 7 October 2016 during the 50th birthday celebration by Boris Johnson MP and The Mayor and Mayoress of Hillingdon. The local paper was there to share our excitement. See our 50th Birthday Celebrations article to read more about the grand opening.
The garden would not have reached its potential without the donations and all the hard work so a massive thanks to everyone who helped.