Design A Greetings Card Competition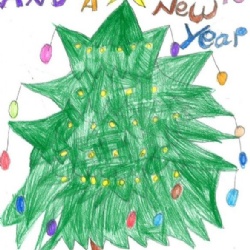 Earlier this term, we announced that pupils were to be asked to design a greetings card. Any celebration could be chosen - Christmas, Eid, Diwali, Easter or even a Thank You card ! Designs have been sent home to parents to purchase if they wish.
We decided to choose one design from each key stage group in school to be used on the Christmas Cards Meadow sends out to its associates, professionals and supporters.
We are delighted to announce the winners of the Design A Greetings Card Competition, as follows:
Year 7 - Reece
---
Thematic - Folusho
---
Year 8/9 - Daisy
---
Year 10/11 - Ilham
---
KS5/Sixth Form - Tillie H
---
Eid Card—Alishba
Well done ! There were some wonderful designs and it was very hard to choose.
There are more fabulous designs on our Gallery page.
.