Wear a Christmas Jumper Day - 15 December 2017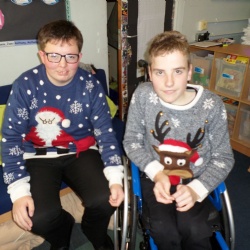 On Friday, 15 December 2017, pupils and staff were invited to wear their brightest and most festive Christmas Jumpers to school (or any jumper they like) for a donation of £1.00.
There were reindeers, father christmas, snowman - you name it, there was a jumper for it ! Mr Ho's jumper literally had lights on it !
We also had a soup kitchen running all week, also in aid of Crisis.
£459.00 was raised from the Soup Kitchen and Wear A Christmas Jumper Day. All money raised is going to the charity Crisis, who support homeless people. The Crisis At Christmas Appeal costs £26.06 to reserve one place for a homeless person to stay in a Crisis At Christmas shelter over the Christmas period. Not only do they receive warming food including Christmas dinner, a bed and shelter, they get acces to health services, hairdressing, showers and grooming, advice on legal matters, benefits, work, housing and counselling. We are delighted to have been able to support this very worthy cause.
Thank you to parents, staff and pupils for supporting this cause. There were some very generous personal donations from families and staff...... and lots of small donations........well done everyone !
Here are some photos:
11PS look warm and cosy in their Christmas jumpers !
11JM are modelling their Christmas Jumpers
9ML are all wearing their Christmas jumpers
Merry Christmas everyone !