11ZK Tesco Visit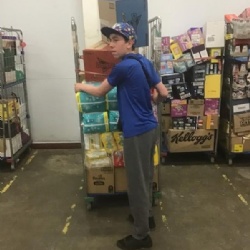 On 23rd June 2023, 11ZK visited Tesco in Yiewsley. The store manager Roly Lumm and other two duty managers welcomed students and staff on their arrival. Students had a tour of the different departments and had detailed explanation of each department to build insight of students about how the store is operated at front of the house and all other backgrounds tasks/roles. Some of the tasks and areas covered were as follows:
Observing and helping with deliveries
Moving trolleys in storage area
Food waste area and how items are disposed
Freezer storage
Shop floor - stocking items
Clothing department
Mobile phone shop
Working on cash desk and serving customers
Many thanks to the team at Tesco and MHS who were involved in this trip to make it successful and students and staff absolutely enjoyed their visit!!!
Ms S Kabhoo