Leavers 2023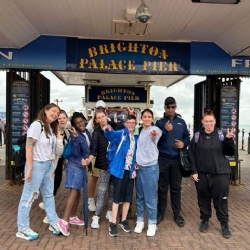 Brighton Trip
6th form leavers attended and had a fabulous day out, making amazing memories before Life Beyond Meadow.
Leavers' Assembly
All of our leavers (including year 11s) and their families attended our Leavers' Assembly.
It gave us the opportunity to celebrate everyone's achievements , we presented students with their School Portfolio's and said Farewell.
We also presented Miss Wilson and Mrs Cryan with some beautiful flowers to thank them for the Portfolio's and Year 14 Leavers' books.
The flowers were donated by Funky Flowers in West Drayton, Thank you !
Miss Carter - Team Leader, Sixth Form