Hannover Trip 19/6/23 - 23/06/23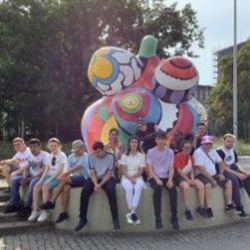 Hannover Trip 19/06/23 -23/06/23
Students and staff went to Hannover, Germany for a week and participated in lots of fun, interactive and educational activities. The focus for this trip was to learn essential life skills, build strong relations with other cultures/country, experience different educational setting, and build confidence and independence.
All students were absolutely amazing and coped very well with the intense planning for the entire week. Planned activities were
Visit to town hall,
Neon golf,
Visit to hosting SEN school,
Boat trip,
Hannover Zoo,
Theatre (performances of SEN students),
Visit to Schloss Marienburg Castle,
Disco party (hosted by German school)
Visit to Caritas werkstatten (work experience for SEN students).
Massive thanks to all parents/carers and staff (MHS and Hannover team) who were part of it to make this trip very enjoyable and successful. We are looking forward to host German students in London in October 2023!

More photos on the website here
Ms S Kabhoo