Library Update - Fully Refurbished and Open For Business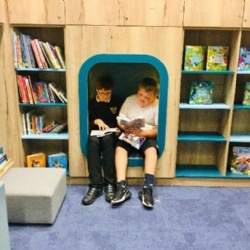 Library Update – Fully Refurbished and Open for Business!
Mission accomplished – with a little help from our Friends (of Meadow) and support from our governors! On behalf of our students, I would like to extend our grateful thanks to all who helped make it possible for us to have this amazing new library.
We will be having an official grand opening in the Autumn term but for now we are just enjoying this beautiful space. It is hard to believe how far we have come since this time last year, and we definitely could not have achieved this without the help of the whole Meadow High School team; students, staff and our wonderful parents and carers. Please follow this link to have a virtual guided tour!