Summer Club at Meadow High School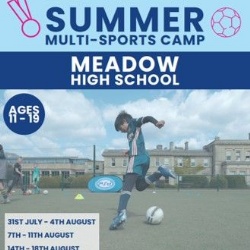 Summer Holiday Club
31st July – 4th August 2023
7th August – 11th August 2023,
14th August – 18th August 2023
Open now on ParentPay.
PSD will be back to run their holiday sports club with more fun activities to keep your children entertained for a few weeks over Summer.
The day runs from 9am – 3pm and you must send your child with a packed lunch.
Mr P Heffernan