Celebration of Achievement Evening - 30 November 2017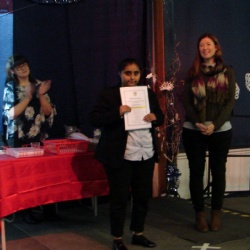 On Thursday, 30 November 2017 we held our annual Celebration of Achievement Evening. This is a prestigious event the purpose of which is to present pupils past and present with their exam certificates and accreditation, and to celebrate and share their achievements.
The evening was attended by The Mayor of Hillingdon, Mrs Carol Melvin and her consort Mr Andrew Melvin, Meadow School Governors, Staff, Parent and Pupils. We were also delighted to welcome
Mrs Mel Buxton as our Guest of Honour. Mrs Buxton is one of the Travel Trainers from Ealing Mencap who has worked extensively with many of our pupils to support independent travel and use of public transport. There were lots of pupils past and present in attendance.
Mr Macdonald, Head Teacher, began the event by giving a short speech. Mr. Macdonald commented that he believed this was the fourteenth year Meadow have held a Celebration of Achievement Evening. He also commented that, sadly, it will be his last, as he is due to retire at Christmas.
Then, the main event of the evening took place, compared by Mr Bunker. The pupils were called up on stage one by one and were presented with their certificates by Guest of Honor, Mrs Buxton. Pupils had their photos taken and shook hands with Mrs Buxton. A PowerPoint presentation behind them showed photos of when they first came to Meadow (ahhh) and now, when they are older and look very grown up. A paper programme was given out, listing all the certificates and achievements of each pupil.
After the main presentations, Mrs Buxton gave a short talk about her work as a Travel Trainer. She commented on how well the pupils had done, and how lovely it was to see so many collecting awards. She wished everyone well in the future.
Mr Burton, Chair of Governors, made closing remarks. He commented on the fantastic achievements made by pupils, and the vast range of subjects in which achievements had been made. He had counted nearly 1,000 certificates listed in the Programme. He commented that he had been Chair of Governors for many years and this particular event was always one he enjoyed and looked forward to.
Then, Harry, Head Boy, gave the Vote of Thanks. He presented the Mayor and Mrs Buxton with gifts and thanked everyone for coming along and supporting the evening.
Mr Macdonald then presented Mrs Edwards with some flowers. Mrs Edwards has been on the Meadow Governing Body for five years and is stepping down at Christmas. Mrs Edwards has served on various committees and as Vice Chair. Mr. Macdonald thanked Mrs Edwards for giving up her time and for all her support.
Finally, the Sixth Form Dance Group presented "24 Carat Magic". Everyone clapped along and enjoyed the performance. Well done !
Refreshments were served and everyone had the chance to catch up.
The Project Search team were represented, wearing their blue polo shirt uniforms and looking very smart. Project Search is a supported internship programme at the Marriott Hotel Heathrow. Several of our past pupils are currently taking part in the programme. Some new Project Search photos were displayed. These can be viewed on the Project Search page of this website.
We held a raffle and managed to raise £160.00 for the Sixth Form Charity which, this year is, Great Ormond Street Hospital (GOSH).
This year, there was much to celebrate. Pupils received certificates for GCSE Childcare, GCSE Art, GCSE Maths, Level 2 and Level 1 Functional English, Level 1 Functional Maths, Level 1 Dance Leadership, Level 1 Practical Horticulture Skills, Entry Level Certificates in Englilsh, Maths, Science, Religious Studies, Physical Education, Humanities and Art, ASDAN Towards Independence.
There were also a huge range of AQA Unit Award subjects achieved: E-Safety, Using ICT, Personal Safety, Road Safety, Design a Dream Holiday, Kitchen Hygiene, Design a Pizza, Healthy Eating, Cooking Dishes From Around the World, Black History, Black Peoples of America, The Home Front During World War 2, Victorian Schools, Appreciation of God's Colours, Coding with Scratch, Use of Powerpoint, Introduction to Islam, Introduction to Christianity, Introduction to Rainforests, and many many more.
Meadow High School would like to thank all those who supported Celebration of Achievement Evening:
Thank you to The Worshipful, The Mayor of Hillingdon. Mrs Carol Melvin and her Consort, Mr Andrew Melvin.
Thank you to Mrs Buxton, Travel Trainer from Ealing Mencap for being our Guest of Honour and Guest Speaker.
Thank you to Mr Burton, Chair of Governors, and all the other Governors who attended.
Thank you to the staff for helping with organising, setting up, staging, refreshments, photographs, preparing all the certificate packs and Programme.
Thank you to Mrs Green for organising the Raffle in aid of GOSH.
Thank you to the parents, as always, for your support.
There will be lots of photos of Celebration of Achievement Evening 2017 on the Gallery page.