Celebration of Achievement Evening 2022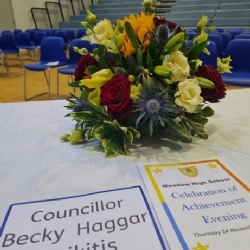 It was lovely to see so many pupils publicly celebrated for their achievements at last night's Celebration of Achievement Evening. We were delighted to have not only our current pupils, but also those who left this summer and the summer of 2021. We were joined by the Mayor of Hillingdon, Councillor Becky Hagger and Miss Bhopal, who returned to present pupils with their certificates and awards. This year's celebration saw the first ever presentation of the Duke of Edinburgh's award to Meadow pupils. Not only did several pupils receive their Bronze Award, two pupils also received their Silver Award. Many congratulations to each and every person who attended the evening for all their hard work.
Mrs J Rigby
Headteacher
We would like to thank Louise McGinty of Funky Flowers for the very kind donation of three flower arrangements for our Celebration of Achievement Evening.