Diwali Day In School - 28 October 2022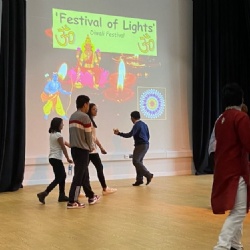 On the last day of term we celebrated Diwali. - the Hindu Festival of Lights.
The pupils enjoyed showing off their traditional dresses and had a yummy curry for lunch! We learnt about the story of Diwali and decorated some diyas and made some colourful rangoli patterns. Pupils danced along to traditional music and even got to see a daytime fireworks display!!
Mrs A Mistry
Faculty Lead - Mathematics