World Book Day 2022 !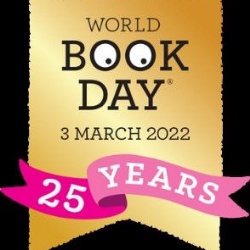 World Book Day 2022 !
World Book Day is always celebrated for a whole week at Meadow High School! We used this as an opportunity to promote core literacy skills and build links with the world beyond school. This year is special as it was the 25th anniversary of World Book Day. World Book Day is now celebrated in over 100 countries around the world!
The theme we chose this year was a positive focus on looking forwards after the challenge of the last 2 years - 'The Future – What's Next? '. We supported our students to gain an understanding of next step plans for our school but also explore their own plans for the future i.e. getting back to socializing and activities they have missed but also what they want to achieve in the future including steps they need to take to make this happen.
Our library was temporarily out of bounds due to Phase 2 of the build however, we were not deterred! We ran a range of activities throughout the week including staff sharing a favourite book with their class and a Reading Across the Curriculum challenge. This was at school and home and we asked you to help by encouraging your child to use their reading skills as much as possible. We sent home A Guide to Better Reading at Home for ideas on how to support this work and offered the opportunity for training if you're finding it hard to get your teenager reading – you are certainly not alone if you do! Please fill in the slip on the letter or let your child's Form Tutor know if you would like to take part. We are offering a Friday afternoon in-school session and an online session at 5:00pm on a Wednesday. We will confirm dates once we have all replies in and collated, so that these sessions can be as targeted and useful for those who attend.
Non-uniform/Dress-Up Day on World Book Day was so much fun! Students enjoyed coming to school dressed as either a character from a favourite story [book, film or television series] or a person from a non-fiction book including a job that interests them. Staff joined in too and I think you will agree we certainly did World Book Day proud!
Students arrived at school looking a bit different – mind you, so did Mrs. Rigby! We had lots of fun sharing photos of our amazing students in assembly this week!
Your child will have brought home a World Book Day token, they look a little different this time as they were sent digitally. [Please let us know if your child's token has somehow gone missing and we will do our best to help.] The FREE books that you can get with the token are really good once again, definitely something for everyone.
£1 book tokens can be swapped for
one of the FREE World Book Day books available from participating booksellers
OR used to get £1 off any full price book or audiobook instead (as long as the book or audiobook costs at least £2.99.
The World Book Day £1 books are a gift from booksellers.
Please note that the token cannot be redeemed online.
** World Book Day book tokens will be valid from Thursday 17 February – Sunday 27 March 2022.
The £1 books are also available in braille, and audio via the RNIB (Tel: 0303 123 999) and large print via Guide Dogs (Tel: 0118 9838275).
For further information please use this link https://www.worldbookday.com/about-us/what-is-world-book-day/ or phone and have a chat with our librarians, they will be happy to help.
[Have a look at our assembly powerpoint to see the books staff chose and the World Book Day choices for this year.]
Many thanks for your continued support,
Mrs Sugden & Mrs Heggie