Steel Bones Walking Challenge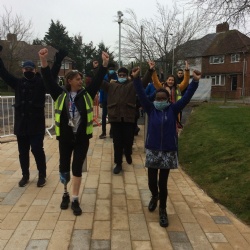 Steel Bones Walking Challenge
Firstly thank you so much to everyone who got involved and recorded their minutes walked in January!
We managed to walk for an amazing 38,014 minutes which roughly works out to 2534 miles! As our goal was 365 miles, I'd say we smashed it!
I don't have an amount of money raised for Steel Bones yet as this will be given at the end of the year.
Special congratulations to:
6GM who walked for 3660 minutes
11JT who walked for 9185 minutes!
8NC who walked for 1827 minutes
and YA who walked for 9350 minutes.
Thanks again everyone for all your support.
Mrs Mayall - Sixth Form Tutor