Work Experience at HS2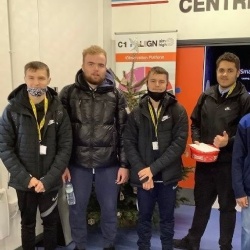 Dear parents/carers,
In the previous half term, a group of Sixth form students successfully completed a work experience at one of the HS2 site in Rickmansworth. This golden opportunity was offered to five of our students for 5 weeks, every Thursdays. These students were fully supported by the school staff as well as qualified and specialised HS2 staff.
During the work experience, students had a great opportunity to learn new skills and carry out tasks under close guidance and supervision of an adult in the following departments: -
Medical – students were taught by qualified nurse how to carry out basic health checks such as blood pressure, testing sugar level and cholesterol, measuring body fat, weight while using specialised equipment.
Café and canteen – preparing food/drinks and serving customers, use of tills and card machine, following and maintain high level of food hygiene.
Warehouse - handing out PPE to HS2 staff, stock counting, organising and tiding up the warehouse.
Snoozebox (overnight accommodation/hotel for HS2 staff) – Students supported supply chain in the running of the onsite hotel, customer service and maintenance services.
Tunnelling office – Carrying out quality checks of the tunnel segments using specialised computers.
Our students and staff worked really hard to make this pathway successful and we are happy to announce that HS2 are happy to offer same WEX opportunities to our students after February half term (subject to Covid restrictions).
Well done team (staff and students) and keep up the good work!
Mrs A Fabisch
Careers Lead / Deputy Head for KS5
Ms S Khaboo
Lead Job Coach