TUESDAY 23 NOVEMBER 2021- SCHOOL IS OPEN TODAY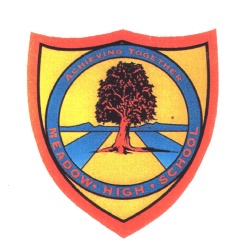 Good morning
School is open for pupils today as normal.
We are pleased to say that late yesterday afternoon we received the Building Control Certificate for the new building.
Kind regards
Meadow High School Senior Leadership Team
---
School lunches for this week will be:
Tuesday 23 November 2021
Burger / Veggie burger in a bun with potato wedges
Wednesday 24 November 2021
Pasta bake or Jacket Potatoes
Thursday 25 November 2021
Sausage / Vegetarian sausage and mashed potato or Jacket Potatoes
Friday 26 November 2021
Fish cake & Chips
For dessert there will be a variety of cakes to choose from.