Thank You to the Trees For Cities Charity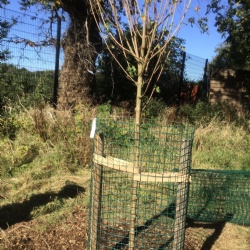 Thank You to the Trees For Cities Charity
On Tuesday 5th October two representatives from the UK charity Trees for Cities visited and planted a Maple tree which they donated to Meadow High School.
Both John and Tom were extremely knowledgable and gave really good advice and tips to the students from our Horticulture classes. The pupils were helping with digging and planting of the tree.
Trees For Cities is a UK Charity that works closely with councils to plant trees in parks, streets, woodlands, schools, hospitals and housing estates. Not only did the gentleman give up their time to support us, but Tom came back on Wednesday 6th October to ensure the tree was strapped and secured.
From the Horticulture Team,
we would like to say a massive
Thank You !