Mr Verma's Day As Headteacher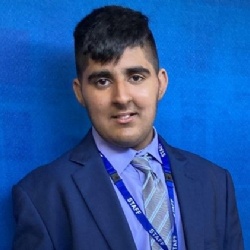 On Wednesday 22 July 2021. Mr Verma (aka Rocky in Class 9MC) had a very busy day as 'Headteacher For The Day' after winning this prize in the Fantastic Fiesta Raffle.
Mr Verma took the opportunity to do some learning walks around school, visiting classes to see how pupils were learning.
After break, Mr Verma put on a hard hat, boots and yellow vest in order to go on a site visit to see how the new building is progressing.
After a Headteacher's lunch, Mr Verma presented assembly, and asked the staff lots of questions.
During Class Observations, Mr Verma noted "The students are currently creating something for their curriculum based project. The staff are making sure that everyone is safe."
A final word from the Headteacher of the Day:
"As Headteacher of Meadow High School it feels a great privilege of my professional life to be the Headteacher for the day. I wish this school the very best for the future as it marks its 55 years of opening."

Mr Verma - Headteacher For The Day