Meadow FANTASTIC FIESTA - Thursday 22 July 2021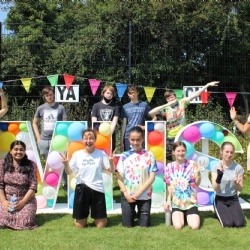 We had a Fantastic Fiesta Party on Thursday 22 July 2021
Thank you to everyone who helped take part to make this event a success, it was a hot and sunny day but we all had the best time EVER!
The stalls run by form classes were great fun; we enjoyed soaking the teachers in the stocks and taking goofy pictures at the photo booth! Along with the delicious food, Ice Cream Van and live music, we couldn't have asked for more!
We would like to thank all the staff who have worked tirelessly to keep the school running smoothly including virtual lessons for the pupils, as well as a huge well done to all our incredible pupils who have been so brave and grown up dealing with all the uncertainty and changes during the past 18 months.
We wish everyone a happy and healthy summer break, be safe and look forward to seeing you all again in September for the new academic year!
Mrs Mistry, Miss Bhopal, Mrs Mayall, Mrs Manning, Mr Millard, Miss Barham
(Meadow High School - Party Planning Committee)
*If you would like to see more, pictures will be uploaded to the website under Our School/Gallery/Fantastic Fiesta Party*