Scouts - Rifle Shooting Results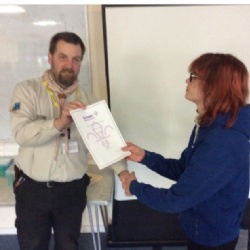 On Saturday the 18th January, 13 Scouts from the 8th Hillingdon took part in the Uxbridge District Shooting Competition.
The marshalls were all impressed with the way in which Scouts conducted themselves, and commented on the enthusiasm of each of our Scouts. A particular mentiongoes to Leon, who scored a fantastic 82 out of a possible 100, which placed him third overall in the district !
Phil, Assistant District Commissioner came and presented Leon with his certificate on Friday the 7th February.
Mr Rainsbury—8th Hillingdon Group Scout Leader