Project Search Interns the "best possible advert" for the Programme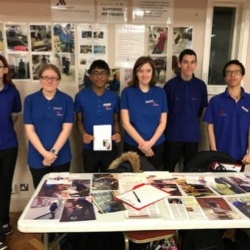 On Thursday 30th January, our current Project SEARCH interns attended the Getting Ready for Work Event at the Civic Centre.
They spoke to parents, carers and potential interns who visited our stand, giving them details about our supported internship programme. They were able to give first-hand information about their own personal experiences as interns in our host business, the Marriott Hotel. Visitors commented on how well the interns communicated with them and one said that they were the best possible advert for our programme.
We are now recruiting for our 5th cohort,
which begins in September 2020.
Interns must be aged 17 – 24 when they start the programme, have an
Education, Health and Care Plan and want to move on into paid employment.
Our next Open Evening will be held at the Marriott Hotel, Heathrow
on Monday 10th February at 6.00 pm.
If you are interested, please contact:
Mr A Bunker, Assistant Head & Key Stage 5 Coordinator.
Please enter some content for your news story here.