TRIP TO FRANCE 22-27 March 2020 REMINDER - Year 11 and 6th Form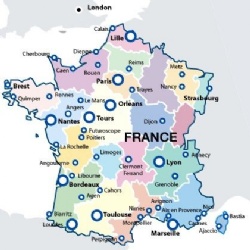 TRIP TO FRANCE 22-27 March 2020 REMINDER - Year 11 and 6th Form
A polite reminder - If your child is 6th Form and is interested in going on a school trip to France, please make sure you send a reply slip to the school reception by Friday 10th Jan 2020.
We are now extending the trip to year 11's (letters will be sent with students today) so if interested, please make sure that reply slips are sent to the reception by Monday 13th January.
This is an amazing opportunity and the cost of the trip can be a maximum of £400 or as little as £100 for children entitled to Free School Meals ; however it could be as little as £100 or £50 for FSM pupils if we manage to secure additional funding ( please see the letter for more details).

Mrs A Fabisch
Faculty Lead - Vocational Studies
The original letter, sent out in December 2019 to all Sixth Form, is attached at the bottom of this page for printing. If you need another paper copy please contact School Reception urgently.
Here is what the letter said:
13 December 2019
Dear Parents/Carers,
We are planning a trip to our partner school in Draguignan and Nice, France from 22nd till 27th March 2020 (5 nights/ 6 days).

We will be hosted by our partner SEN School and we will be staying in accommodation in the same town as the school for 4 nights and in Nice for 1 night. During the trip, all students will take part in a variety of educational and cultural experiences with a vocational / work related focus.
Please bear in mind that although it is a very exciting opportunity, the trip will include a considerable amount of walking every day. We will be sightseeing around Nice and Draguignan and will need to walk to the school which is around 1 mile away from the hotel.
We will be travelling to France by plane and so it is essential that your child does not have a fear of flying. The journey includes traveling by road and probably a 90 minute train journey and the students will need to be able to manage their own luggage during the journey.
Please also be aware that during the visit students will share rooms ( 2 or 3 in each room) and although support will be offered when required, the pupils should have basic personal care skills. Please note that there will be no direct supervision while the pupils are asleep due to staff not sleeping in the same room; however, members of staff staying in rooms nearby will be able to assist students at any time should this be required.
We are pleased to inform you that the school will be able to cover over 50% of the actual cost of the trip (which is around £850 per person) and therefore the cost paid by parents/careers has been reduced to:
£400 in total for all students (all inclusive: flights, accommodation, transfers, food, sightseeing, insurance)
or
£100 in total for pupil premium students ( please speak to us if you have concerns regarding the payment amount)
If you wish for your child to be considered for the trip, please return the reply slip below to the reception staff by Friday 10th January 2020.
As we can only offer 10 places on the trip, students' attendance will be considered and interested pupils will be entered for a draw. There will be 4 members of staff attending the trip.
Should your child be selected, a non-refundable deposit of £50.00 (pupil premium) and £100 (non pupil premium) will be required by Monday 20th January 2020 followed by:
£150.00 paid by Friday 7th February 2020 and a final payment of £150.00 paid by Monday 2nd March 2020 ( paid by parents of children who are not eligible for pupil premium)

£50 paid by Monday 2nd March 2020 ( paid by parents of children eligible for pupil premium)
We would like to add that the school is in the process of applying for additional funding and if successful, the cost of the trip could be reduced to just the amount of the deposit paid- which you would be advised about nearer the time of the visit.
Please note that all deposits are NON-REFUNDABLE should you decide to withdraw your child from participating in the visit or if the school is forced to remove your child from the trip i.e. due to unacceptable behaviour/ high risk.
NB You must ensure that your child is in possession of a current UK passport that indicates a minimum of 6 months validity from the intended date of departure and that they hold an European Health Insurance Card – EHIC (that is free of charge and can be applied for as soon as your child is selected for the trip)
PLEASE DO NOT SEND ANY MONEY UNTIL YOU RECEIVE CONFIRMATION THAT YOUR CHILD HAS BEEN SELECTED.
Should you have any questions, please do not hesitate to email afabisch@meadowhighschool.org or you can call us at the school on 01895 443310 ext'n 216.
Yours faithfully,
Mrs Fabisch
Trip organizer
.....................................................................................................................................................................................................
Reply Slip: – please return to reception
I would like my child to be considered for the visit to Nice/Draguignan, France 22nd – 27th March 2020
Name of Child: _______________________________________ Class: ____________________________
My child has a valid passport: YES / NO
My child has an EHIC card: YES/ NO
My child is eligible for pupil premium: YES/ NO
I am prepared to pay £50 / £100 non-refundable deposit by 20.01.20: YES/ NO
Signed: _______________________________________ Print name: _________________________________
Contact details: e-mail ______________________________________________________________________
Tel: Home: ________________________________ Mobile: ________________________________
Work: ________________________________ Date: __________________________________
Please enter some content for your news story here.