Meadow High School Prom - July 2017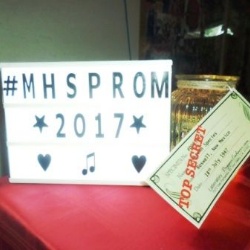 On Thursday 13 July 2017 at 7pm, we held our Annual Prom for Year 11, 12, 13 and 14.
This year the theme was space and aliens. Darth Vader kindly offered to be Valet and open car doors for our arriving VIPs (Very Important Pupils).
Guests stepped out of their cars and onto the red carpet, greeted by cheers and applause and a lot of "paparrazi" photos.
There were some beautiful ball gowns and sparkling slippers. The boys wore suits, waistcoats, bow ties and some even sported shades.
All of a sudden, Luke Skywalker arrived and started having a lightsabre battle with Darth Vader .......really, you just cant get the staff these days .........do they not know we have a Prom to go to ? Once Luke had finally sorted out Darth, the Prom could begin.........
Guests walked along the Reception Hall Red Carpet, through beautiful arches. Mr Bunker (Head of Sixth Form) welcomed Guests and took their invitations (Cosmic Passes). Then, guests went through another magically lit arch into the Main Hall.
The Main Hall was decked out in a marquee, and decorated with cosmic splendour. Planets dangled from the ceiling whilst stars and cosmic sparkledust decorated every table and wall.
Tables were set out for dinner with red table cloths, and the finest china and glass on earth.
On arrival, guests were treated to pre-dinner non-alcoholic cocktails prepared by Mr Hancox. There were also slush puppies and a chocolate fountain to tickle the tastebuds.
As pupils found their places on the tables, they were delighted to see individually made place name cards and space age serviettes.
Dinner was served at 8pm in the "Cosmic Cantina". Our "out of this world" Chef, Mrs Lea Cross had designed the most delicious three course menu. Guests enjoyed chicken goujons. or melon for starters, then lasagne or burgers for main course and ice cream or chocolate brownies for pud. Who knew that aliens like the same food as we do on Planet Earth. Staff waited on the VIP guests so that their every need was met.
After dinner, the disco started. Pupils and staff bopped away, strutting their stuff until everyone was exhausted.
Guests could also visit the Photo Booth to have group and individual pictures taken.
There was a sweetie cart where guests could select their favourite treats to take home and munch later.
At the end of the evening, our VIP Guests collected their sweets and jumped into their chauffeur driven spacecraft to be whizzed home.
Here are some quotes from the evening:
'Thanks to all the staff for last night's prom party. Miriam seems to have loved it and returned beaming. She felt like a celebrity on the red carpet with the paparazzi!'

Ms De Souza (parent)

'Yasher had a wonderful time at prom. We went to the barbers for his haircut and he was so good. Thank you to everyone who worked so hard and made the prom so special.'

Mrs Ashfari (parent)
Once again, a huge thanks to the staff for supporting this event, to the parents for organising ball gowns, suits and chauffeuring services, to Mr Brian Wallington for the disco, Miss Lennon and her team of staff for hairdoos, pamering and nails, for Mrs Cross and the kitchen staff for cooking an amazing meal, to Mrs Sugden, Miss Markham and the Prom Committee for organising everything, to Mr Hornal (Darth Vader), Mr Brady (Luke Skywalker), and everyone who helped to organised this event both before the night and on the night. Finally, thank you to the pupils for being amazing.
Please visit Our School/Gallery for lots more photos of the evening. There are two Prom 2017 Galleries.