Charity Shop Grand Opening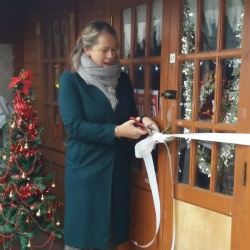 Thursday 5th December saw the Grand Opening of the Meadow High School Charity Shop.
Headteacher, Mrs Rigby, braved the freezing weather to cut the ribbon watched by students & staff to officially open the shop.
The Meadow High School Charity Shop has been stocked with lots of items suitable for students to purchase as gifts or as treats.
All items have been generously donated. It is hoped that students will have the opportunity to shop during lessons such as Maths, Life & Living and PSHE to help them on their life journey. We are pleased to report that the first day of trading was successful & the first customers were very pleased with their purchases.
Please note, if you would like to donate any items such as unwanted gifts, unused toiletries, boxes games/toys, handbags, purses , scarves, decorative items etc., please send them into school in the New Year.
Merry Christmas & a Happy New Year !
Mrs Hamilton—Lead Job Coach
Please enter some content for your news story here.