Celebration of Achievement Evening 2019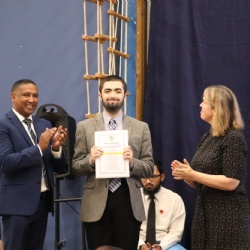 Last Thursday, 28 November, we held our Annual Celebration of Achievement Evening, where pupils were presented with last year's exams and accreditation certificates.
We were delighted to welcome the Deputy Mayor of Hillingdon and, once again, the hall was packed with pupils past and present, parents, special guests, governors, and staff. Mrs Rigby opened the evening by commenting on how many certificates had been achieved and she spoke about being positive.
Our special guests was Mr Marc Jacobs, a lecturer from Reading University, who oversees our Teacher Training programme. Marc presented pupils with their certificates and gave a short speech about "being the best you can be".
The Head Boy, Imtiyaz, and Head Girl, Paige, gave a vote of thanks and closing remarks were made by the Chair of Governors, Mr Burton.
To round off the evening, we watched a dance performance of "Dancing in the Street" by the Sixth Form Dance Group, and then enjoyed refreshments. It was lovely to see returning pupils who left last year, including some now on Project Search (our supported internship programme at the Heathow Marriott).
Congratulations to everyone on your achievements ! Photos will be on the website gallery soon. Mr Bunker—Assistant Head, Sixth Form
To see all the photos from the evening please visit the Gallery
Please enter some content for your news story here.