Jack Petchey Award Winner for November - Farhan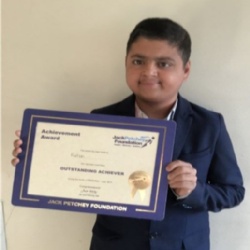 November Winner—Farhan
Farhan won the Jack Petchey award for November! Farhan was nominated for the Jack
Petchey award for being a great representative to the school when attending sports trips.
Farhan and always tries his hardest and shows great maturity, sportsmanship and positivity even when results don't go his team's way.
Farhan has taken on a managerial role for younger students on other sports trips and was a great role model for these students.
Well Done Farhan!
Farhan chose to spend £250 towards T-shirts for after school sports clubs!
Please enter some content for your news story here.