Horticulture News - Vegetable Sale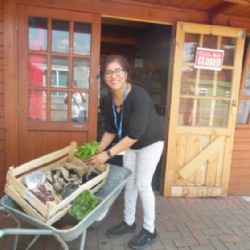 In Horticulture, as part of our learners' journey they have been learning how to sow seeds and nurture them by watering, pricking out, planting out and finally harvesting the produce. This produce (vegetables) has been on sale in the recently opened school charity shop.
During the Autumn term the students will be planting onions, tomatoes, radishes, spring cabbage, turnips, winter lettuce and herbs which will then go on sale in the shop.
Produce will also be used as part of our Team Enterprise project - "Crunchy Munchies " - weekly soup making for staff sales. Some of the profit is then reinvested to buy more seeds and equipment for the Horticulture Team to use.
As the produce is harvested we would like to encourage all students to visit the school charity shop to buy the vegetables. There will be notifications posted on the website to advise of availability of produce.
"To plant a Garden is to believe in tomorrow"
We look forward to welcoming you to enjoy the fruits of our labours.
The Horticulture team, Miss Lennon and Mrs Cryan