Prom - Welcome to the Kingdom of Atlantis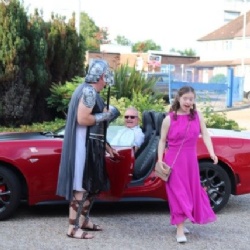 A night to remember, relax and celebrate after a busy and challenging year for our Year 11 and 6th Form students as they attended our annual prom last Thursday. The theme was Under the Sea - Atlantis the Lost City and, after school, a huge team of hard-working and dedicated staff transformed the school to create a truly magical night.
Luckily, the sometimes tricky God of the Sea, Poseidon was in a good mood and the early evening sun shone down as the students arrived looking amazing. Staff and parents formed the waiting crowd and whooped and cheered as each student enjoyed their 'red carpet' moment - some embracing the chance to shine enthusiastically whilst others were a little more shy! After mocktails, created especially for the occasion, students enjoyed a three course meal including a chance to indulge their sweet tooth with treats from the chocolate fountain and stay cool throughout the night by enjoying a slushy or two! When dinner was over it was time for the dancing to begin. The evening raced by and we had quite a job to get our most enthusiastic dancers to stop when the time came - our dance teacher, doing her job just a bit too well I think!
Students also had fun posing for lots of photos with their friends - a huge thank you to our photographers lending their skills to the occasion! Students will be able to look at these with their tutor group and print out copy of their favourites to take home. Some photos of the Prom will be on the website Gallery soon.
The list of kind staff who willingly gave up a great deal of time to make this evening so special for our students would fill the rest of this newsletter. I can only say to our Prom Shop, Hairdressing Salon, chef and kitchen staff, waiters, waitresses and washer-uppers, DJ, dancers, decorators, designers and the whole amazing prom team as well as the kind support from Friends of Meadow and the Jack Petchey Foundation THANK YOU ALL SO MUCH! Without your generous support this event could not take place. Roll on Prom 2020!
Mrs Sugden & Mrs Tudor
More photos on the Gallery soon !