Life Beyond Meadow— News from the Arts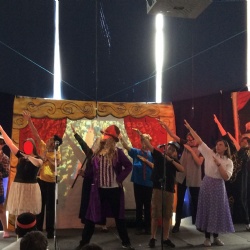 As this academic year draws to a close the Arts Faculty have lots to celebrate.
We are very proud to inform you that two of our arts student, leavers from last year, have made great strides in their first year of college at BCA. Harry Norris received The Viscount Astor Award for 'Above expectations in Academic Achievement' and Ellen McCarthy for 'Best Art Student'. They received these awards competing with all the mainstream students in BCA, 1500 students, both pupils receiving top Distinctions in their Level 2! Harry is studying Performing Arts, whereas Ellen has chosen to study Production Design. We make big strides at Meadow to provide pupils with the opportunity for success beyond school.
This term has seen a huge amount going on in the Arts. Here are just a few of the exciting opportunities pupils participated in: Mr. Mubarak has produced brilliant performances with the school inclusive signing choir in and out of school. Arts Week led us smoothly into the school production, where we learnt about Motown by making props for the school production, and we were lucky enough to have Stony Dean school visit us for a work shop on Motown. During the workshops a mixture of Year 10 and 6th form pupils produced a performance in less than a day based on positive values, beliefs and ethics inspired by anti racism. Pupils enjoyed debating what we should keep and get rid of in the world. This led us into another striking show form Mrs. Sappal and her crew, with the production of Motown Magic written and performed by Script Writers Club and Production Club recounting the story of Motown Records and a glimpse of music history from then, now and even to the future. Who couldn't resist boogying along in the audience? Finally, this week we are lucky to have had a visit from Collective 31 to deliver music workshops to Year 9, Thematic and a combined group of Year 7,8 and 6th Form students, who really enjoyed harmonising vocals and developing percussion call and response. Miss Ahmed invited parents in for a Thematic Arts Day with pupils. Mr.Hancox ran an induction to Lego Therapy through most of the day this Wednesday. Richard Peters, an award winning wildlife photographer, delivered an exciting vocational talk to year 10 students on how he got into being a photographer and what inspires his work. Needless to say, it's been a busy and fun filled term in the Arts! We hope you enjoyed our performances as much as we did providing them.
Happy holidays from the Arts!
Some quotes from the term:
"I really enjoyed the music workshop" Servanna Year 8
"The Drama workshop was great! " Bayley Year 10
"Your pupils are great to work with and I can't believe Sunny's performance the workshop really brought it out of him!" Richard visiting teacher from Stony Dean
"We love working with Meadow Pupils....... all the sessions went really well" Naomi and Catherine" Collective 31
"I have a lovely group of friends I hang out with at BCA, it's been much easier than I expected," - Ellen—Leaver 2018 now studying Production Design at BCA
"I enjoyed coming back to Meadow to help with "Motown Magic." I am looking forward to doing more Performing Arts at BCA next year. - Harry, Leaver 2018, now studying Performing Arts at BCA.
"We had a wonderful time coming back to Meadow High School to do some creative music and composition workshops with the students! They were all really creative and made some great pieces of music" Collective 31
Miss C Kepinska—Faculty Head of Arts