Motown Magic Poster Competition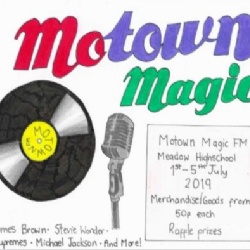 Poster Competition Winner !
This week, the sound of Motown music has been heard ringing out in the corridors of Meadow as pupils and staff present their summer production "Motown Magic".
A competition to design a poster advertising the show took place recently. The winning design has been displayed around school, and was on the Show Programme cover.
Congratulations to Mia in Year 11 for the fabulous winning design, which you can see below: