Jack Petchey Award Winner - June 2019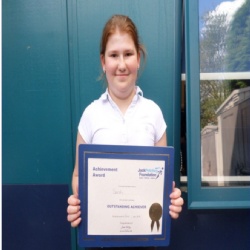 Sarah won the Jack Petchey award for June!
When Sarah first came to Meadow she found things a little difficult. Now she tries her hardest in all lessons and is now helping others students in her class. Her attitude towards school and her lessons has changed and now she is always positive and tries their hardest to work her hardest and follow all the school rules. She is always helpful to other staff and other students who are finding things difficult.
Well Done Sarah!
Sarah chose to spend £250 towards new playground games!