Inclusive Choir Concert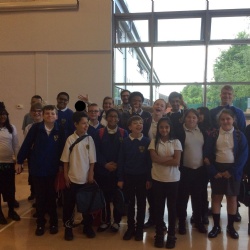 A massive well done to all the participants in this year's Inclusive Choir. The show, which took place at Sacred Hearts Catholic Primary School on Monday, was a resounding success!
Students worked tremendously hard to learn 5 sign-along songs and one original song of their choice in such a short space of time. Their performance was extremely well received by staff and students alike at the host school:
"Thank you; we all really loved your choir! They were brilliant!" Linda Gee, Sacred Hearts Teacher & 2019 Host.
It was an absolute pleasure to lead the choir once again this year and I feel incredibly proud to be their music teacher. You don't need to be an expert in sign-along to decipher the expressions on their face; a smile speaks a thousand words in any language!
Well done!
Mr A Mubarak—Music Teacher