Disney Unravelled - Our Fantastic Production for Summer 2017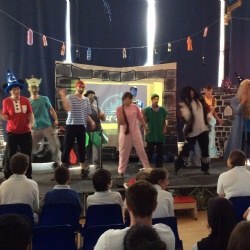 Our Summer Production Main Shows took place on Thursday 6 and Friday 7 July 2017. Parents, Staff, Governors and pupils were all treated to an extravaganza of music, dancing, acting, singing and lots of colourful fun.
This year's production has been written by a team of our students from years 10, 11 and 6th form, with Miss Kalia and is an original story created using the students most favorite Disney characters.
Along with the support of Dance Club, Production club pupils have written the script and created their own dance routines.
Like last year, students have the opportunity to be a part of the backstage art crew working on set design, props and costumes. This has been a great opportunity to work on fine gross motor skills painting, making sculptures and sewing and still be a part of the whole Production Team.
This original story was written to include some of the famous Disney songs the students had selected to help shape the narrative.
The story is set in Merlin the Wizard's lab, where he is training his new apprentice Mick. However, Mick accidently drops a potion onto the magic Disney book, unleashing all the characters around the castle. Mick meets some friends and the smaller characters overhear some scary news that Mr Potato head keeps chasing to tell the others. Mick has to find them all in time before some sneaky villains (Captain Hook and his sidekick Smee) complete a plan of their own!
To read full details about the Production, the script, the rehearsals, performances, and feedback please visit Learning/Curriculum/Arts/Our Shows/Disney Unravelled 2017
To see lots of photos from the Show Nights, please visit Our School/Gallery.