Next Week is World Book Day and Literacy Week - Monday 4 March - Friday 8 March 2019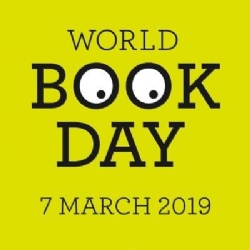 World Book Day: Celebrating Literacy Week
Monday 4th March – Friday 8th March 2019
This year we will be celebrating the art of storytelling by exploring the theme of Storytelling & Me. All week students will have the opportunity to build their skills and confidence through taking part in storytelling work. Reading a story to an adult, Reading a story to a friend, Share reading a story in class.
Focus: Thinking about how to make the story sound interesting for the listener.
Opportunity to Shine: Students will have the chance to record a story reading [audio/ video], their recording will be added to our new MHS books.
We are also going to work together to write some new books for our school library. We need your help. We would like each student to take part in writing a short story to include in the book. What could the story (or poem) be about
a story your family tell about you
a story your family tell about someone else in the family – [this can be a favourite pet]
your own original story
a favourite story you love and want to share!
Calling all artists! We would love it if students illustrated their story; some very creative students might decide to tell their story through drawings. Some stories may also be told through dance or drama – these can be videoed and added to the new library books too.
Talented Teamwork encouraged: Sometimes it's even better when creative ideas are shared. Students will also have the chance to collaborate to create stories – it worked for Shakespeare so why not! We are also hoping to create cross-curricular books to add to our library. The teachers in other subjects might ask for help to write about a picture(s) that relates to their subject.
This could be
an amazing sporting achievement
an important moment in history
an exciting moment on our planet or beyond!
discovering a new creature, animal or place
describing a work of art OR telling a story about it.
So, lots to do – we would really appreciate your help if you can.
Non-Uniform Day will be Friday 8th March 2018. We will be sending a letter home to remind everyone but if you want to plan ahead the theme is any story your child knows – fiction or non-fiction – anything related to the ideas above or your own creative thoughts ... having fun wearing something students like is the main thing!
Mrs A Sugden
English & EAL Faculty Leader
Mrs C Heggie
Reading Intervention Manager
Mrs C Wilkes
Librarian