Celebration of Achievement Evening 2018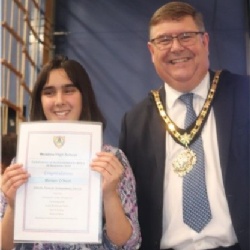 Celebration of Achievement Evening 2018
Last Thursday, 29th November 2018, we held our Annual Celebration of Achievement Evening, where pupils are presented with their exams and accreditation certificates from the previous academic year.
This is a prestigious event and was attended by The Mayor and Mayoress of Hillingdon, Councillor John Morgan and Mrs Fiona Morgan. There were special guests, such as Governors and professionals, and we were delighted to welcome back Mr Macdonald our previous Headteacher.
Mrs Rigby, Headteacher, opened the evening by talking about Teamwork and the team around each pupil, which includes the parents, all the staff and professionals. She thanked everyone for their hard work in supporting each child to achieve.
Our Special Guest Speaker, Ms Tracy Goode, Chief Executive Officer of Signalong, presented pupils with their awards and taught the audience how to sign the Meadow Vision: "Our School will provide a happy, safe and stimulating learning environment, where everyone will be inspired and supported to do their personal best"
Following the presentation of certificates, the Chair of Governors made closing remarks commenting on the number and variety of certificates achieved this year and the breadth of subjects and levels. The Head Boy, Curtis, gave a Vote of Thanks. The evening was finished off by a performance entitled 'This Is Me' by the Sixth Form Dance Group and Raffle in aid of the sixth form charity DASH—which raised well over £200.00.
Pupils received certificates awarded for various accreditation such as AS Level Art, GCSEs in Maths, English, Biology and Art, Functional English and Maths, City & Guilds Horticulture and Hair & Beauty, Sports Leaders UK Awards, BTEC in Home Cookery and Construction, Entry Level Certificates in Maths, English, Science, PE, Childcare, Religious Studies, Arts and Humanities, ASDAN Towards Independence Awards and AQA Unit Awards.
Pupils who left the school last year also returned to receive their certificates. It was great to see so many old faces and hear how they are doing in their new college and Project Search placements.
We would like to thank the Mayor and Mayoress, parents, staff, special guests and Governors who attended to make this a special evening for our pupils.
After Celebration of Achievement Evening a parent emailed to say "Such a lovely evening - thank you to all the staff for all the organisation, staying on into the evening and for making it a special occasion in the presence of the Mayor."