Shoebox Appeal - UPDATE - The boxes are on their way to Grenada !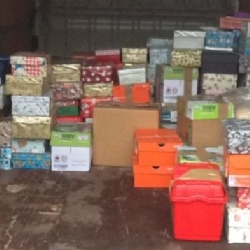 Last year we launched an appeal to fill shoeboxes full of goodies to send to three special schools in Grenada. The school has worked with the Jason Roberts Foundation over a number of years to provide support and expertise to these schools.
Finally, on Tuesday this week, 191 shoeboxes, 17 boxes of paper and colouring pencils and a bag of cuddly toys left the school bound for Grenada ! The Jason Roberts Foundation should receive these before Christmas to hand out to their students.
Many thanks for the kind support of parents, staff and students!
If you would like to read more about the School's work with the Jason Roberts Foundation please visit the School Website to read the whole story.
www.meadowhighschool.org/Learning/International Links/Grenada
http://jasonrobertsfoundation.com/grenada-progs/disability/