Class of 2018 Reunion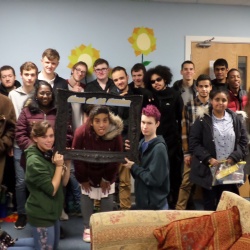 Class of 2018 Reunion
Last week, Friends of Meadow ran an informal Leavers' Reunion in the Sixth Form Common Room for the Class of 2018. Many of our current Year 13 and 14 pupils joined eighteen of our former pupils who returned for a chat and a catch up. A fantastic spread of food was put together by Mrs Green. Mr Bunker and Friends of Meadow had organised what proved to be a highly enjoyable event. There were tales of times at college, times at work, of Project Search, of learning to drive, of early mornings and challenges faced outside Meadow, of successes and great achievements too.
There was a real buzz as our 2018 leavers were re-united and socialised with each other and their former teachers and friends from the years below.
Thanks to all the staff for their work arranging the event and to all the current and previous Meadow students who attended, making the reunion so much fun.