Children In Need Charity Day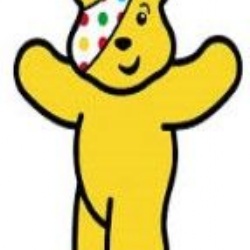 Children In Need Day—Friday 16 November 2018
We had another one of our successful fund raising events last Friday to raise money for Children in Need.
We had an extended break time, with lots of stalls in the hall where pupils could spend their money on cakes, hot chocolate, jelly and ice cream, nails painting, guess the name of two different teddies, guess the name of Froggy's favourite food, find Pudsey and hook a duck to name a few.
Mr Glass spent time making some fantastic Pudsey key rings and sweet holders which went down a treat and were sold by 8MS. We still have some available, if you would like to purchase these you can do in reception.
We then had the opening of the 'Remember me' memorial in the Sensory garden (see article in this bulletin).
Then followed a fun assembly, where we played our very own version of 'I'm a teacher, get me out of here'.
Mrs Rigby, Mr Rogers and Mr Szabo did very well in the gross eating and drinking challenges they faced!
All in all, it was a fun day and we raised a total of £616.73.
Thank you to all parents for supporting the event and to the teachers for running stalls/activities which helped raise this huge amount of money.