Jack Petchey Outstanding Achiever Award - September winner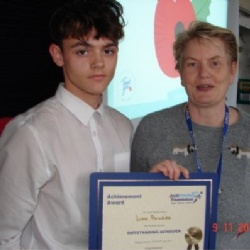 Luke won the Jack Petchey award for September!
Luke won because Luke has returned to school from the summer with an excellent positive attitude towards school and lessons. He has been coming to lessons well prepared with the correct equipment. He comes into class ready to learn and is producing really high standards of work.
Well Done Luke!
Luke chose to spend £250 towards new football kits for the school football team and after school club.
To find out more about Jack Petchey Awards please visit http://ww.jackpetcheyfoundation.org.uk. To find out how the generous Jack Petchey grants and awards schemes have helped pupils at Meadow please visit the Jack Petchey page on the school website Learning/National Links/Jack Petchey Foundation. To see which Meadow pupils have won the award in the past please visit News/Awards/Jack Petchey Outstanding Achiever Awards.