Summer Holiday Reading Competition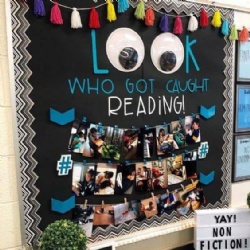 Holiday Reading Competition:
Look Who Got Caught Reading!
The summer holidays means..... Homework!!!!! Wait, homework?! This is homework with a difference! Mrs Heggie challenges you to a read off!
Can you take a picture of yourself reading in the wackiest place possible? It could be in the park, on the beach, in the paddling pool, with your family, with your pets, in bed, under the bed, doing a hand stand..... you get the idea!
Once you have taken your picture you can bring it to school in September or email it to cheggie@meadowhighschool.org.
Your picture will go on display in school and you will be in with a chance of winning a fantastic prize! Good luck!
Mrs Heggie (a.k.a Miss Sojka) - Reading intervention Manager