Prom 2018 - An Enchanted Evening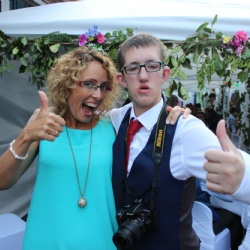 The Annual Meadow High School Prom took place on 12 May 2018. This year, we invited year 11, 12, 13 and 14 to a magical summer wonderland. Pupils arrived on the red carpet, dined on a three course menu, and then danced the night away. Please see Our School / Gallery for all the photos of the evening - there are TWO galleries ! Thank you to all the staff who worked so hard to make the evening really special and magical. Here is some feedback and a few photos.
"The best day of my life!" Louis 11CL

"Prom was amazing. The music was good and it was nice to have everyone together to celebrate." Letty 11CL

"It was spectacular seeing my friends, teachers and TA's there. The food was delicious and the popcorn was great!" Negenia 11CL

"I felt special standing on the red carpet and the school was decorated beautifully."
Anisha 11CL

"I had a good dance. The chocolate fountain was the best!" Jursan 11CL

"I liked having my hair done and dressing up." Rebecca 11CL
And from a parent of a year 11 child
"Just wanted to say I know my son won't express his gratitude but all the hard work and effort that was put into the prom last night looked amazing. They are very lucky! Thank you for giving me a tearful, proud moment of my bubba who was never supposed to walk or talk and now he's been to his prom! Please pass on my thanks on making this milestone such a special occasion. "