Project SEARCH update - July 2018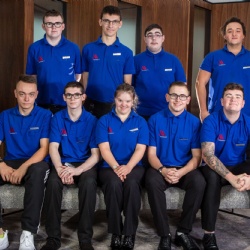 Our second group of interns are approaching the end of the Project SEARCH supported internship programme run by Meadow in partnership with the Marriott Hotel, Heathrow.
Project SEARCH is a transition to work programme for young people with learning disabilities and it should be their last year of education. Interns need to be aged 17–24 at the beginning of the programme and have a current Education, Health and Care Plan. Project SEARCH takes the classroom into the premises of a local employer and teaches interns employability skills on-site in a real workplace environment, helping them to make a smooth transition from education to employment. Each intern completes three placements in different departments within the hotel, building their skills so that they become work ready.
At 9.00 am each morning, interns complete a one hour Employability Skills lesson following the Project SEARCH curriculum, then leave the training room to spend five hours fully immersed in the Marriott workforce. While in their departments, interns are evaluated by Project SEARCH staff and receive feedback and job coaching to enable them to achieve their full potential within the role. At 3.00 pm, interns return to the training room for a final reflection on their day. They work on their communication skills by talking about what went well and if any issues have arisen, it is an opportunity to plan how these can be resolved. Interns leave the hotel at 3.30 pm and are required to travel independently, as part of the programme.
We are very proud of the fact that five of our current interns have been successful in achieving the Project SEARCH goal of paid employment and three have already started their jobs. One intern is working as a trainee locksmith, one is an Odeon cinema host and one is employed as a Nando's restaurant host. In August, one intern will begin the role of Linen Porter at the Marriott and one has secured a horticulture apprenticeship with the London Borough of Hillingdon, which begins in September. Our remaining interns have job applications currently being processed and these will hopefully lead to paid employment in the near future. Once employed, our interns can access
follow-on support if required, to help them maintain their jobs. It is this level of support that makes the Project SEARCH programme unique and ensures the success of our young people.
Mrs M Simpson
Project Search Tutor
For more information about Project SEARCH visit Our School / Sixth Form / Project Search.