Arts Meets Science Week - 25-29 June 2018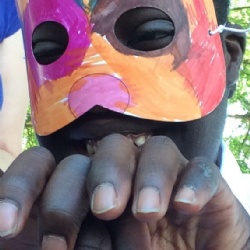 Arts Meets Science Week!
From 25th to 29th June, Meadow held an Arts Meets Science Week, the week was aimed at developing pupils' understanding of links between subjects and creating fun interactive learning opportunities.
There were several events in which many students participated, including competitions and activities in lessons. The theme stemmed from a very generous donation of many purple moose from 'We Brand It', and some activities revolved around moose and their actual habitats and needs, contrasting with the purple moose. Other activities were a cross-curricular mix of Art and Science, where students created some very attractive pieces of work!
The Winners of the purple moose competition are: AM, KS3: 7SK, KS4:10CL, KS5 LD.
In Art we learned about creepy crawlies, discussed their habitat and how to recognise different classifications. We did colour experiments to make potions and created art in response to the solar system. We also looked at nature and how animals are camouflaged and hid
In break times, pupils loved the experimental painting, where we bounced balls through paint, and painted with water pistols to make exciting landscape designs.
den with patterns. We used this to design masks, spray paint patterns on pillars and left an exciting trail of animal foot prints through the playground.
Pupils were also keen to participate in' Hoop the Moose' where they could use their estimation, velocity and momentum skills to put a hoop round a purple moose to win a prize.
Ms Terry and Miss Kepinska
Please enter some content for your news story here.