Summer Production - West End High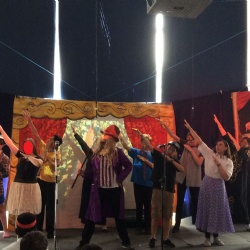 .This year's production has been written by a team of our students from years 10, 11 and 6th form, with Miss Kalia and is an original story created using the students most favourite characters.
Along with the support of Dance Club, Production club pupils have written the script and created their own dance routines.
Like last year, students have the opportunity to be a part of the backstage art crew working on set design, props and costumes. This has been a great opportunity to work on fine gross motor skills painting, making sculptures and sewing and still be a part of the whole production team. Miss Nolan's Media group has created the show's trailer and the scenes backdrops which were used for every performance!
This original story was written by our own students to include some of the famous Musical theatre show characters they have studied in Dance lessons. The music and songs help to shape the narrative of the story and you may have heard some from your favourite shows. The story is set in Wonka's School of Performing Arts, West End High, where loads of dancers/singers want to make it on the big stage. The new kids nearly get into the wrong crowd, the naughty Jets and Tbirds, and are guided by the friendly Dodger around school. Senior students have exciting news, but Tracy is faced with a tough decision to choose whether to attend Prom or a big audition… the show must go on!
We would like to thank all the pupils and staff involved in the show.
Jasmin (Year 8) designed the winning poster advertising the Production. Well done !
To see all the photos from the shows, please visit our Our School/Gallery/West End High.
To read more information, including the script and the Programme, please visit Learning / Arts / Our Shows